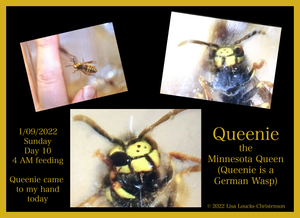 I started my day early, and Queenie, my wintering Minnesota Queen (a German Wasp) came to my hand. OK, it's not like kisses from a dog, or my cat, but it was sweet. You are welcome to use this picture anywhere, to promote saving our bees, wasps, hornets or being kind to animals. pic.twitter.com/alT3VshBkl

— Lisa LC (@lisasbookstores) January 9, 2022

I'm working on a new documentary, this one involves the "hand of man" since the queen German showed up inside my house, and landed on my shawl. I couldn't put her outside since it was below zero, so I kept her, and have been tending to her since the last day of 2021, 10 days, today. 

I have some how befriend her trust, and today she came to my hand on her cage. I'm creating a children's book too, so kids don't fear our insects, bees, wasps, hornets but learn that all creatures communicate to us, they want to understand us as much as we do them. That's my non-scientific message, I base this opinion on my years of studying insects and wildlife and ways I've found to "speak wasp" as my family says, or "speak owl", "Speak toad" or any creature I study. I don't really speak their language, I feel their emotions and can understand, in part, they are showing us their lives in ways we can appreciate and learn from. 

I recorded this story  in 2006, it was a side documentary inside my, WALK THE BURN documentary. It has not been released to the public
.