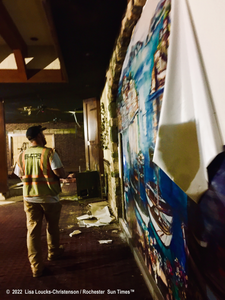 Photo Credit: Lisa Loucks-Christenson / Rochester Sun Times™
An Elcor construction worker walks past the draped mural hanging in the former Papa George Taverna the bar in the former Michaels Restaurant building in downtown Rochester, Minnesota.
July 18, 2022 Rochester Sun Times — Rochester, Minn. by reporter Lisa Loucks-Christenson
Michael's Restaurant in Rochester, Minnesota is Coming Down
The former Micheals steakhouse that was established by Michael and Mary Pappas in 1951, is meeting the final end: the walls are coming down, shaking the artwork on the walls of Peacock Books & Wildlife Art store.
Like other residents of Rochester, I'll only have my memories because the old is coming down. The new will eventually arrive and with it, positive changes.
I'll always and forever be grateful for the times our family, friends, and clients had dined at the Michael's Restaurant or ate in the Papa George Taverna in downtown Rochester, Minnesota, during my lifetime. 
During the afternoon today, the walls trembled, shook and I watched as my pictures of eagles on the wall rocked into flight.
The construction workers came into Peacock Books to see if any holes or damage were done while knocking out the Papa George Taverna wall. Luckily, pictures on my wall rattled, but nothing came down.
When I walked into the construction area with them, I was privy to the newly discovered red garage door butting up to my wall space with a stone archway in front of it on the side of the old tavern.
My eyes locked on the surrounding scenes. I could, even after eight years, envision people gathered in groups around the room. When I quieted my thoughts, I could still imagine their laughter and conversations. The shots I took today, July 18, 2022, were much different from the shots I shot at the end of 12/31/2014 the day Michaels Restaurant officially closed. 
Today, the mural, half-draped, swayed in the movement as we passed by it with an opening that leads to my wall. Like a new door, to a new beginning.
I turned by eyes to the old remnants of times gone by. If there were Ghosts of time past lingering, if they were ever here entertaining the worldwide clients, may they always keep their presence here, if only written on a floor plaque that reminds us that Michaels had once been here.