Horses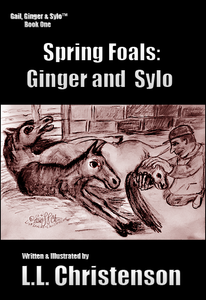 Gail, Ginger & Sylo™ series, 
New Family Series Horse Book Series: Gail, Ginger & Sylo™ Announced
Written and illustrated by number one best-selling and award-winning author and illustrator LIsa Loucks-Christenson writing as L.L. Christenson.
Set in rural Iowa during WW2, this is the story of a girl and her horses.
Sold exclusively through our network. Loose art, stickers, and merchandise sold in our bricks-and-mortar stores:

Silver Lake Books™
Old Country Cross Christian Bookstore™
Peacock Books & Wildlife Art™
One copy is in our information catalog (not for sale, just for your information to learn more about the books).
Sorry, there are no products matching your search.
Lisa Loucks-Christenson's Books