Exhibits by Lisa Loucks-Christenson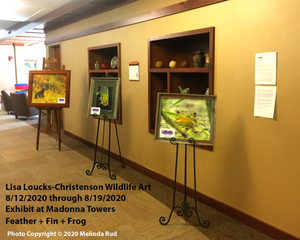 Exhibit: Feather + Fin + Frog Exhibit
Where: Madonna Towers, Rochester, Minnesota 
Date: 8/12/2020 to 8/19/2020
 Photo: © 2020 Melinda Rud
Feather + Fin + Frog is a new exhibit by Lisa Loucks-Christenson on display at Madonna Towers in Rochester, Minnesota. The three piece exhibit is on loan with the hopes of bringing a few smiles to the residents of Madonna Towers, many senior citizens that are isolated from so many adventures during this pandemic. Lisa selected three images for a face to face experience with our area wildlife, God's creation as shown through the portraits Lisa has created.
Lisa Loucks-Christenson, a national award-winning author and photographer based out of Rochester, Minnesota. Lisa specializes in wildlife behavior and life cycles and predator-prey photography. Lisa's work and exhibits are on display in her galleries at Peacock Books & Wildlife Art and Silver Lake Books in Rochester, Minnesota.

Lisa will move the exhibit to Silver Lake Books, 903 6th St NW, Rochester, MN
Sorry, there are no products matching your search.
Lisa Loucks-Christenson's Books