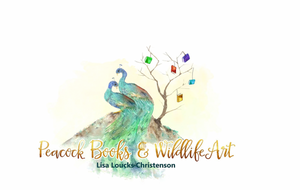 White Wolf Creek™️ publishes the nature art and wildlife documentaries by Lisa Loucks-Christenson. The Lisa Loucks-Christenson wildlife collection is on display at her bookstore and art gallery Peacock Books & Wildlife Art store in the Galleria at University Square.      
The Lisa Loucks Christenson Wisconsin Natural History Collection has been recorded by Lisa over the course of the past 30 years and is ongoing. This collection features Lisa's unique collection of Wisconsin's flora and fauna, rustic roads, barns, agriculture, scenics, history; lifestyles, cities, villages; events and culture.
In the art bins, card racks, and book shelves you'll find Lisa's photographs, sketchbooks, art books, wildlife art, cards and greeting cards, documentaries from her travels throughout the USA.
Check the back walls for ongoing exhibits of Lisa's work.
The wolf painting that is is Lisa's original art created for her logo. It's not for sale because it is her logo for the White Wolf Creek™ brand. 
Foreign Translation Rights, Movie Rights, Book Clubs: 
Contact Lisa directly for her nature art and documentaries White Wolf Creek™ catalog.
You can use the contact form below,  leave a message at: (800) 928-2372, or email: info@WhiteWolfCreek.com
White Wolf Creek™ solely represents Lisa Loucks-Christenson art work, it does not represent other artists.

White Wolf Creek carries a rotating selection of Lisa's books, art books, personalized books, and titles, new and used, curated in-house by Lisa for sale in her store.
Exhibits: 

The real Valentine poses with Lisa Loucks-Christenson the author and illustrator of the Valentine's Adventure Series.
May 1, 2022 - through 2022
VALENTINE'S ADVENTURE SERIES EXHIBIT

Valentine's Adventures is a children's book series written and illustrated by international award-winning author, photographer and illustrator, Lisa Loucks-Christenson.
The series follows the life of Valentine, a pint-sized Chihuahua who doesn't let her age determine her adventures. There's a book for each day of the week, some of the titles include: Blustery Tuesday!, Faire Friday!, Stowaway Saturday!, Shipwreck Sunday, Museum Monday! and more.
The seven children's books represented in this series are published by Bow Wow Detectives® (Valentine is an ambassador for the Bow Wow Detectives®)) The personalized books are published by Story Antics® and Story Antics Personalized Books™. 
Art cards, loose  prints are available for sale during collection of original watercolors by Lisa Loucks-Christenson.