Lisa's Bald Eagle Documentary Exhibit on Display at Peacock Books & Wildlife Art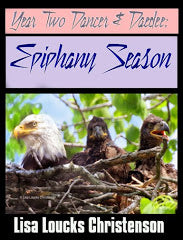 Lisa's Bald Eagle Documentary Exhibit is a rotating display of artwork by Lisa Loucks-Christenson at Peacock Books & Wildlife Art in the Galleria at University Square, street level, store #100.
Lisa's Bald Eagle Documentary is a study of the lives of bald eagles living in the wild that Lisa documented for over a decade in the Whitewater Valley. The images show the full life cycle of an eagle, from their very first eaglet, to their last. Lisa's cameras recorded (digital and video footage) of the eagles mating, the nesting, the rearing of the eaglets, interactions with other wildlife, life off the nest through the seasons (something a webcam can't record); including the former fledglings returning to their nest with the parents and their new siblings, the next year. Lisa is editing the images and putting together the films that will be released in the future. Lisa's art, books, trading cards, are for sale, exclusively, in Loucks Studios, Inc. network of sites and retail stores. 
Lisa's Bald Eagle Documentary images, cards, prints are in homes worldwide, in almost every country, and in almost every state in the USA. Come check out America's favorite pair of eagles, and find out what makes their story rise above the other eagles of the Whitewater Valley. Lisa had ten nests she covered in Minnesota, one was in Wisconsin where she had a small boutique gallery for four years. 
Over the years Lisa's Bald Eagle Documentary was a featured exhibit at the National Eagle Center, aired on Ron Schara's Minnesota Bound outdoor television show, KTTC News, KAAL, the Post-Bulletin and more.
Here is the trailer for the documentary: 
Lisa Loucks-Christenson's Books