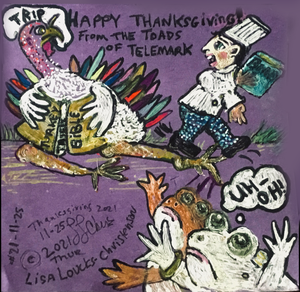 TOADS OF TELEMARK™
From the bottom of their six beating hearts, the Toads of Telemark and the staff at Peacock Books and Silver Lake Books wish you a beautiful Thanksgiving Day.
The Toads of Telemark is a Christian cartoon by Lisa Loucks-Christenson who draws these comics on 3x3 sticky notes. Lisa believes God still speaks to us through His creation, including toads. 
You can license the comic (new in November 2021), starting December 5, 2021.